Almost every video game can't exist without playable characters and All Star Smashers is no exception. Here is a list of confirmed playable characters for All Star Smashers: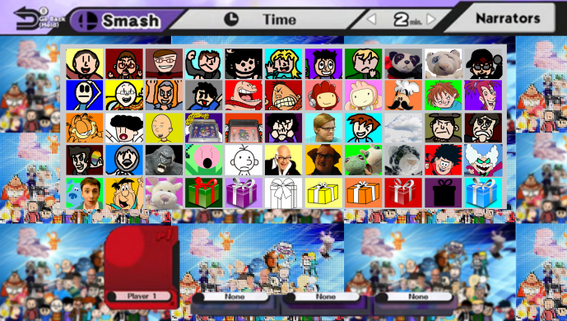 Limited Era
Business Era
Attention Era
Invasion Era
Go!Caillou (Caillou Gets Grounded)
Action 52 (Action 52: NES Version)
Finn Palmer (Pete the Cheerful Bus Driver)
HTML Era
End of the Crater Era
Elouise Pitman (Harry's Island) *Memory Fighter*
Separation Era
Greg Heffley (Diary of a Wimpy Kid)
Upcoming Characters
Otto Hill (The Harry Hill Movie)
Tabatha & Emrly (Oscar the White Tiger)
Ollie the Snow Leopard (Oscar the White Tiger)
Professor Poopypants (Captain Underpants)
Steve & Blue (Blues Clues)
Fred Flintstone (The Flintstones)
Mark the Moose (Christmas)
Captain Blunderpants (Captain Underpants) *Memory Fighter*
Donny Dlaven (Sonnyslavenproductions) *Memory Fighter*
Genesis 52 (Action 52: Sega Genesis Version) *Memory Fighter*
Moody Margaret (Horrid Henry) *Memory Fighter*
Chadtronic's Rival
Fred Flintstone's Rival
 ???
 ???
 ???
 ???
 ???
 ???
 ???
 ???
Character Select Music
Starter Songs
Unlockable Songs