Almost every video game can't exist without playable characters and All Star Smashers is no exception. Here is a list of confirmed playable characters for All Star Smashers: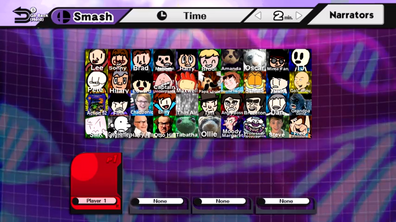 Limited Era
Business Era
Attention Era
Invasion Era
Go!Caillou (Caillou Gets Grounded)
Action 52 (NES Version)
Finn Palmer (Pete the Cheerful Bus Driver)
HTML Era
End of the Crater Era
Elouise Pitman (Harry's Island) *Memory Fighter*
Separation Era
Super Minecraft Kid (Representing Minecraft)
Greg Heffley (Diary of a Wimpy Kid)
Upcoming Characters
Otto Hill (The Harry Hill Movie)
Tabatha the Tortoise (Oscar the White Tiger)
Ollie the Snow Leopard (Oscar the White Tiger)
Moody Margaret (Horrid Henry)
Professor Poopypants (Captain Underpants)
Steve Burns (Blues Clues)
Fred Flintstone (The Flintstones)
Captain Blunderpants (Captain Underpants) *Memory Fighter*
Donny Dlaven (Sonnyslavenproductions) *Memory Fighter*
Chadtronic's Rival
Fred Flintstone's Rival
Ollie the Snow Leopard's Rival
Character Select Music
Starter Songs
Unlockable Songs
Who is your favourite All Star Smashers character?
Community content is available under
CC-BY-SA
unless otherwise noted.